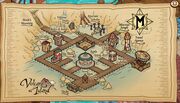 Volcano Island
The Community Chest is located here.
You can examine the chest every 4 hours for a reward of 250,350 or 500 Gold or 1 Platinum.
The Battle Arena is a place to battle other players head to head. You will gain much more XP for your Miscrits as well as weekly prizes.
Platinum Arena
This is located Inside of the Battle Arena.
You are awarded Platinum for each battle and only allowed to use level 30 Miscrits.
You can win 75 Platinum weekly but with the Battlemaster Trait that number can be raised to 100. You have a chance to win an additional 70 extra Platinum by going on a win streak.
Your first five matches with determine your unseen Battle Rank. You will then be matched up with those who are similiar to your rank.
Here you will be asked to bring Miscrits back to him for rewards ranging from Gold to Rare Miscrits.
Here the Miscrit Healer can Heal all of your Miscrits for 10 Virtue.
Here you can Manage your Miscrits party and view all of your Miscrits.
Other Players can visit your house and heal your Miscrits or send you 1 Virtue by clicking on your character
once daily.
You can buy Miscrits with Gems and Facebook credits here.
Their stock changes twice a week.
Some Miscrits are sold exclusively here.
Potions to assist you in battle are sold for Gold.
Relics can be purchased here for platinum and equipped to your Miscrits to increase stats. Some relics are only available for a limited amount of time.
Gives helpful advice and talks about the storyline.
Here you can travel to Emerald Isle and Jungle Shores.
Tickets cost 10 Facebook credits each and can be used over and over again. The tickets are good in both Volcano Island and Sunfall Kingdom.
Eventually you'll be able to go to lots of places! New lands with new miscrits. Some places you've heard of, like Aerobia, some you never even dreamed of.(Travel Agency Representative Discription)
Travel Agency Card Description
Hey, Adventurer!
I am loving the sights of Emerald Isle! Have you seen a Miscrit with both Fire and Earth elementals? I have now! Come visit as soon as you can!
Best wishes, Eroom Nosaj
Travel Agency Card Description
Adventurer,
I've never seen anything like this place! There are so many things to explore. What mysteries will await you among the trees in Jungle Shores? Visit and find out!
-Eroom Nosaj
Northeast part of the Map.
I've heard tales of atleast 22 different Miscrits out there.(Jungle Guard)
Northwest part of the Map.
West Part of the Map. Below Volcano Entry.
Community content is available under
CC-BY-SA
unless otherwise noted.