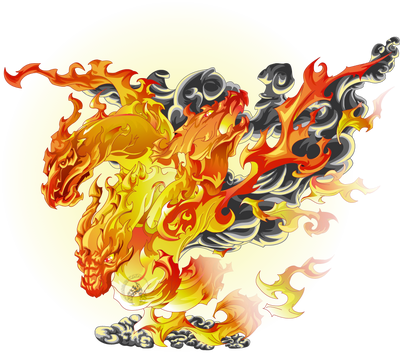 Location
Found in: Volcano (Passage of Despair)
Description
The Fire Elementum is one of the Elementums made by Apollo Nox. It's location is at the Volcano Island, residing inside the Volcano. It is hard to beat if your Miscrits have low attacks. Its the guard to the NOX DOMAIN also.
TO DEFEAT IT YOU WILL NEED THESE THINGS-
Stats
Health: Undefined Elite (550-600)
Elemental Attack: Elite
Elemental Defense: Max
Physical Attack: Max
Physical Defense: Elite
Speed: Moderate
Skills
Firewater: Removes Advantage of Water Over Fire
Rile: buff, all stats +25
Enfeeble: debuff, all defenses -20
Lockdown: debuff, all attacks -17
Clobber: physical, 50-60 damage ( 60- 75 if physical defence is moderate )
Twisted Fire: elemental: 65-70 damage
Hellfire: elemental, (1 hit delete with only 10% chance of hitting)
Strategy
This is the elementum is the hardest to defeat but easy too. You can make your way through it by not using attack but using defences. Lavarilla is a good example. If you lower it attacks till 16 or defence, it will do rile, so decrease its attack till 15 using other miscrits (keep your Lavarilla at last ). Then increase your defences till 200 (don't forget to use heals). Then attack him. Your health will increase and its health will decrease and you can then clear it.
NOTE- Keep your health at red zone or it will use hell fire!
Community content is available under
CC-BY-SA
unless otherwise noted.